◯ Product Ratings + Reviews
We love being a part of your daily rituals and enjoy hearing how your Gentle Habits have helped you live a happier + more positive life. Share your kind words to inspire someone else to create their own mindful daily rituals with Gentle Habits.
"I was gifted Byron Bay incense with gold holder for my b'day and absolutely adore it! I'm living abroad and every time I smell it, it instantly takes me home to Aus with a gorgeous but complex sweet, salty and smokey smell that lingers beautifully after it's been burnt. My bf usually hates strong scented candles but loves this. And, the gold holder is simple and beautiful and works well catching the ash. If you are looking to spoil someone this is the perfect thing!."
– Emma on Apr 25, 2022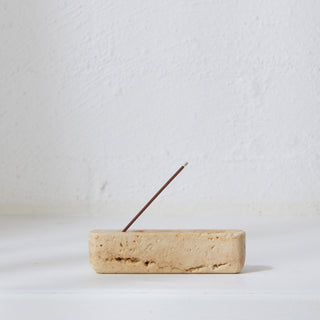 "A unique incense holder which doubles as storage. Would suit most decor.I had some issues with my order, with no fault to the seller. I emailed customer service and the issue was sorted straight away. Thanks so much. I will definitely continue to order from This Is Incense in the future."
– Denise on Apr 30, 2022